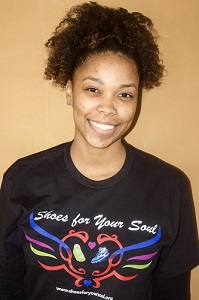 Chante Griffith-Marrero is a secretary and volunteer at Shoes For Your Soul Organization. Born in Camden County and raised in Brown Mills, New Jersey; Chante is known for her eagerness and unwavering drive in supporting the needs of vulnerable city youths.
As an active youth advocate and volunteer with over 3 years of experience, Chante understands that children are the future and is consciously working towards becoming a child therapist. She follows her passion for giving back to the youths and making positive impacts on their lives through social works. Chante is happy to be able to support the Organization's mission of putting smiles on faces.
She is a proud alum of Bowie State University.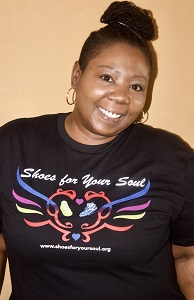 Stacy Rose is the event planner for Shoes For Your Soul Organization. She is passionate about building relationships and connecting with people. Her position in the organization puts her in the middle of planning fun and memorable events for both the children and the organization.
As a single mother of three boys with one having down syndrome, Stacey understands the challenges of keeping up with fast growing children and always supplying their needs. Which makes her grateful for this opportunity to create a positive impact on other children. She is creative, has a "can-do" attitude and takes great satisfaction in making people happy.
Stacey served as a behavior specialist before becoming a full-time advocate for people with down syndrome.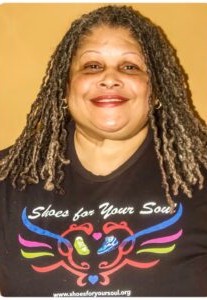 Lisa A. Pierce is the Assistant Secretary at Shoes For Your Soul Organization. She is known for her commitment to helping people and is charged with the responsibility of handling the Organization's administrative tasks. As a teacher, youth advocate and literacy coach in Camden, Lisa is enthusiastic about serving in roles, that provide her with the opportunity to demonstrate sensitivity to the needs of vulnerable populations. 
Serving in Shoes For Your Soul Organization, presents her with the perfect avenue to continue active social works in retirement and to also further assist children in their educational walk literally. She is delighted to provide children with perfectly fitted shoes and socks, as her own way of showing care, respect and treating them with dignity.
Her forever motto is – dream big and in color.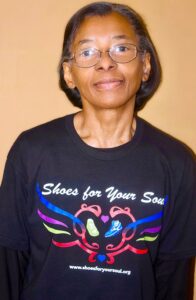 Diane Miller is the Assistant to the President of Shoes For Your Soul Organization. She finds great pleasure in working with other board members towards the actualization of the Organization's goals and approaches all tasks with creativity and ingenuity.
Diane also volunteers in other roles to help the President achieve her dream of providing shoes to children in need. She is a great piano instructor, loves to read and is crazy about word puzzles.
She is happily married and blessed with one daughter.